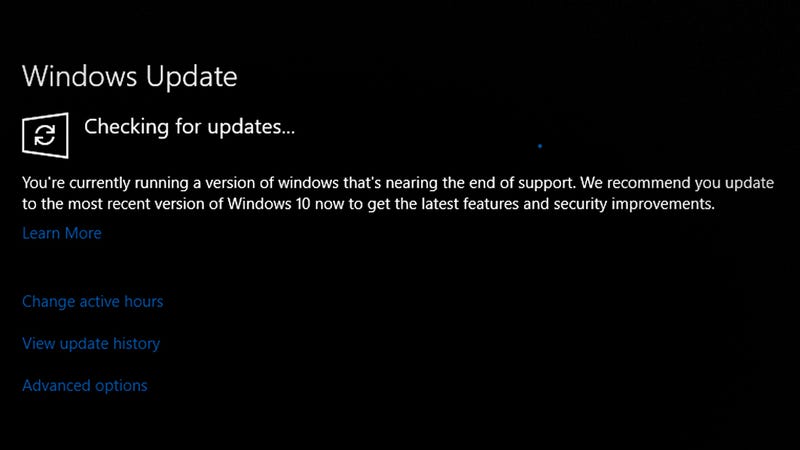 Major Windows 10 updates aren't always smooth sailing. And if you own Microsoft's Surface Book 2, you'll probably be a bit annoyed to know that you can't update to Windows 10 version 1903, the latest iteration of Microsoft's operating system, thanks to a bug with Nvidia GPUs.

To be fair, errors like this are bound to crop up when a company pushes updates for an operating system installed on PCs with wildly varying hardware configurations and capabilities. Microsoft is usually quick with patches to fix some of these issues, but sometimes you need an immediate fix if you pulled the trigger and borked your system.
How to roll back a Windows update
If you act fast, you can fully undo major Windows updates. You only get a 10-day windows after installing the latest version of Windows, so act quickly if your system starts having major issues..

Open the Windows 10 Settings Menu by clicking the gear icon in the Windows Start menu, or by pressing "Windows+I" keys.
Click "Update & security"
Click the "Recovery" tab on the sidebar
Under "Go back to the previous version of Windows 10," click "Get started."

Follow the remaining on-screen instructions to complete the rollback.
While Windows 10 notes that you probably won't have to back up your files before initiating a rollback, it never hurts.
How to uninstall minor Windows updates
You're also able to uninstall all Windows updates that have been applied since the most recent build. Use this only if you know which update(s) caused the issue, as overzealous deleting could lead to even more problems.
Open the Windows 10 Settings menu by clicking the gear icon from the Windows Start menu, or by pressing "Windows key+I".
Click "Update & security"
Open the "Windows Update" tab
Click "Update history," and then click "Uninstall updates"
In the new screen that appears, find the update you wish to remove from the list (under "Microsoft Windows") and click "Uninstall"
Last resort: Reinstall Windows
If neither of the above options work, the last-ditch options are to either "reset" or reinstall Windows, which we have a guide for here. Resetting Windows will keep your files and apps, while a clean installation reverts to a pure version of Windows 10, deletes your files/apps, and resets all your hardware drivers and system settings to their factory defaults. A clean install will likely solve software issues you're having, but it's a tedious process, and should be your last resort.
Prevent automatic updates
Once you've rolled back to a safe version of Windows or uninstalled problematic Windows updates. you may want to prevent Windows from automatically re-downloading and installing them. As long as you're running the April 2019 version of Windows or later, you can do this within the Home version of the operating system. (This feature is automatically built into Windows 10 Pro.)
To pause updates, head back to the Windows Update screen and look for the option; you can't miss it: